UPDATE: This page will no longer be updated.  Instead, please visit the Hardly Neutral WordPress plugins page.
Eric Johnson did all of the coding and deserves all of the credit for these three great plugins!  I commissioned them for a project and am posting them here with Eric's permission.  As an FYI, these are all open-source, and Eric plans on placing them into the BuddyPress plugin repository in the near future.
Custom Groups Name (download)
Activate this plugin, and you will find that your "groups" turn into "communities".   This plugin doesn't do anything more than switch the words.
Group Authors Widget (download)
This widget will display the members of any group with little avatars that link to the members' respective profile pages.
Group Registration (download)
This plugin gives new members the ability to join groups from the registration screen.  Pretty nifty, eh?!
Please add comments here if you find any bugs or if you have any suggestions.
If you find these plugins useful, please contribute back to the WordPress community.
Enjoy!
More posts from themightymo.com

use a plugin to do a bunch of optimizations on this site, but for some reason, the preloading of fonts is broken. So I rolled my own font preloading function and placed it in my functional plugin (You could also put it in functions.php). Here's the code.

Beaver Builder doesn't give you an interface to change the background color of the sticky menu after scrolling. Here's a simple bit of CSS that can help.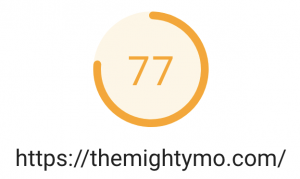 Today I decided to invest 1 hour optimizing themightymo.com. Below are the actions I took along with the results. Speed Benchmarks and Initial Observations Before starting on today's speed optimization, Google Pagespeed Insights scored us as a "44". There's some files loading from the wp.com cdn (e.g. Jetpack's cdn) – Google is penalizing me for…