Hello!
I am excited to introduce "TheMightyMoo!", our first WordPress theme template available for free download and public consumption! YEAH!!! HUZZAH!!! *celebration*
To see it in action, visit Net Impact Minneapolis and TobyCryns.com. Here is a screenshot of the default installation: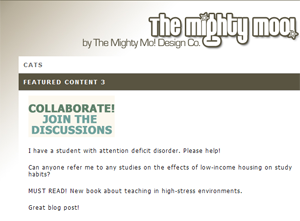 TheMightyMoo! is a fully-customizable accordion theme that uses the MooTools framework to display posts. Installation is incredibly simple! Just download the zipped folder below and get going. 🙂
Don't forget to let us know what you think by leaving your thoughts on a comment below!
– Toby
Version 1.1
– Added CSS classes for image alignment in WordPress 2.5.
– Fixed formatting issues on ordered lists
More posts from themightymo.com
As part of our summer celebration, we want to offer you this package at a great price: $499 – WordPress blog or website – Theme customization – Hosting for a year – Domain registration or transfer This is a great deal for anyone looking to get started with a great website! Contact us today!
Hello! I am excited to introduce "TheMightyMoo!", our first WordPress theme template available for free download and public consumption! YEAH!!! HUZZAH!!! *celebration* To see it in action, visit Net Impact Minneapolis and TobyCryns.com. Here is a screenshot of the default installation: TheMightyMoo! is a fully-customizable accordion theme that uses the MooTools framework to display posts.…