[pullquote class="left"]Some like it on the left.[/pullquote] I pushed a new release of my Simple Pull Quote WordPress plugin a few minutes ago that adds the most-requested feature: left alignment. I know it probably doesn't sound like a big deal to most of you, but what can I say – some like it left, some like it right. haha!
[pullquote]Some like it on the right.[/pullquote]There's probably 4,000 users of the plugin that will utilize the feature…soooo…As George Carlin once said, "Even in a fake democracy, the people should get what they want every once in a while."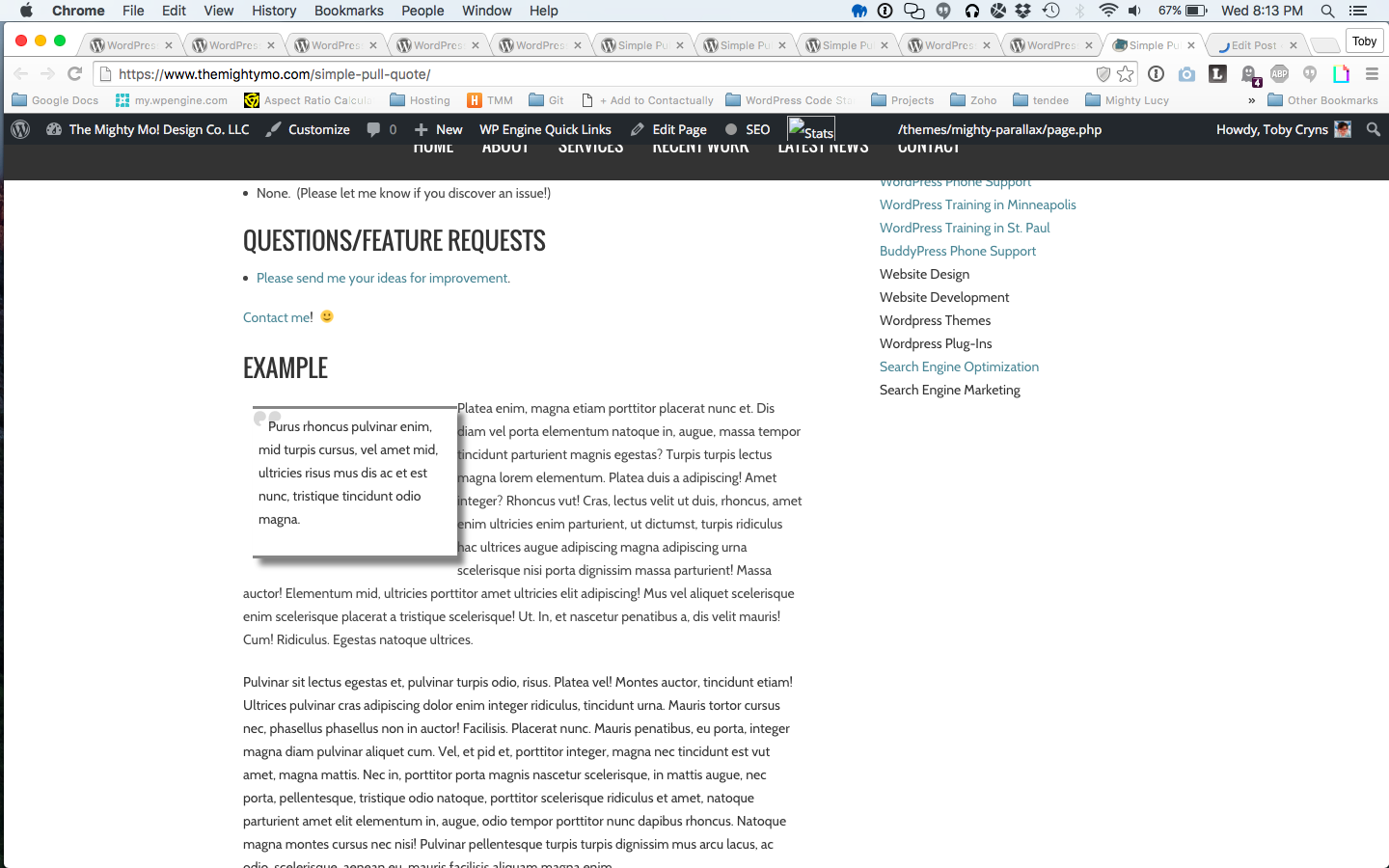 Why did it take me so long to release such a basic feature, you ask?  Well, I am someone who thinks software needs to make decisions for people.  I generally don't like options, especially in something as simple as a pull quote.  Plus, the ability was always there to style the thing for anyone with a rotary understanding of CSS.  I have kept the option totally unobtrusive, because people have to manually add the "class=left" parameter.
For the record, I have plans to release a new version of Simple Pull Quote with all the options, bells, whistles, and dishpans that people have been requesting over the years.  Stay tuned for that!
And Enjoy!
More posts from themightymo.com
As part of our summer celebration, we want to offer you this package at a great price: $499 – WordPress blog or website – Theme customization – Hosting for a year – Domain registration or transfer This is a great deal for anyone looking to get started with a great website! Contact us today!
Hello! I am excited to introduce "TheMightyMoo!", our first WordPress theme template available for free download and public consumption! YEAH!!! HUZZAH!!! *celebration* To see it in action, visit Net Impact Minneapolis and TobyCryns.com. Here is a screenshot of the default installation: TheMightyMoo! is a fully-customizable accordion theme that uses the MooTools framework to display posts.…