Photoshop
Take a bunch of photos of the exterior of a building
1) Select all the photos
2) Tools –> Open into Layers
3) "Auto-align" the layers
4) (with all of the layers selected) Layer –> Smart Objects –> Convert to smart object
5) Layer –> Smart objects –> Stack mode –> Median
To stitch together a bunch of images into a panoramic or a bigger photo
1) Tools –> photo merge
2) Try "image warping" feature if image is warped
Content-aware Scaling
1) edit –> Content-Aware Scaling
2) on top menu –> "Protect"
Flash
– You can now import photoshop layers directly via the Flash –> Import menu
– "Inverse Kinematics", a.k.a. skeletons
– Shape Tweening "on steroids!!
– "Bone" and "Bind" tools for skeleton effects.  This has the effect of creating tendons on bones.
Flash Animations
– No more keyframing; just drag and drop!
– You can change the path of the animation easily/visually
– To slow an animation down or make it longer, simply drag the last keyframe to the right or left
– Flash now has an "After Effects"-like motion editor
– Easing is built into each property via the "Motion Editor" panel
– Lots of new easing options via the "Motion Editor" panel
– Simple "Bounce" tween option
– You can save motions/tweens to reuse on new objects
– Share animations via xml files
Illustrator
– Create symbols in Illustrator and import those symbols into Flash
Fireworks
– Fireworks has better jpeg compression than Photoshop!  So, any time you are going to export jpegs for the web, do it in Fireworks!!
– Can create Adobe Air mouse events from main menu
Pixel Bender
– Check out http://labs.adobe.com/wiki/index.php/Pixel_Bender_Toolkit
– Can do a "green screen" effect
– Can do a blue-red 3D glasses effect
– Can use it over Flash videos
More posts from themightymo.com

use a plugin to do a bunch of optimizations on this site, but for some reason, the preloading of fonts is broken. So I rolled my own font preloading function and placed it in my functional plugin (You could also put it in functions.php). Here's the code.

Beaver Builder doesn't give you an interface to change the background color of the sticky menu after scrolling. Here's a simple bit of CSS that can help.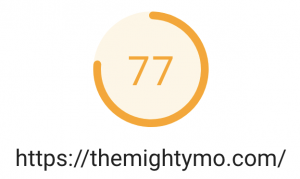 Today I decided to invest 1 hour optimizing themightymo.com. Below are the actions I took along with the results. Speed Benchmarks and Initial Observations Before starting on today's speed optimization, Google Pagespeed Insights scored us as a "44". There's some files loading from the wp.com cdn (e.g. Jetpack's cdn) – Google is penalizing me for…