This article by HowToGeek does a wonderful job of outlining how to run Minecraft mods. The stuff I'm writing below is basically a summary of that article.
In Terminal, run the following command to install qt5-default:
sudo apt-get install -y qt5-default
Download and install MultiMC.
Log into your Minecraft account inside MultiMC
Click "Add Instance" in MultiMC.
Right-click on the instance you created in the previous step and select, "Edit Instance". Then click "Install Forge".
Download mods from CurseForge (the files should end in ".jar"). Add them by going to "Edit Instance"->"Mods"->"Add" in MultiMC. NOTE: Make sure you are downloading "mods" and not something else – this tied me up for a while, as I was downloading .zip files and not .jar files.
Launch Minecraft in MultiMC
More posts from themightymo.com
To unzip a .bz2 file via the command line, "cd" to the directory, then type: That's it!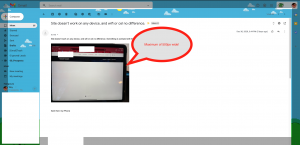 Every now and then, someone sends a huge image to my Gmail account. This leads to frustration, because I'm then unable to see my reply, which goes off the right side of the screen. Here's the fix.
This article by HowToGeek does a wonderful job of outlining how to run Minecraft mods. The stuff I'm writing below is basically a summary of that article. In Terminal, run the following command to install qt5-default: Download and install MultiMC. Log into your Minecraft account inside MultiMC Click "Add Instance" in MultiMC. Right-click on the…