Today I decided to invest 1 hour optimizing themightymo.com. Below are the actions I took along with the results.
Speed Benchmarks and Initial Observations
Before starting on today's speed optimization, Google Pagespeed Insights scored us as a "44".
There's some files loading from the wp.com cdn (e.g. Jetpack's cdn) – Google is penalizing me for this stuff.
Google is actually penalizing me for using Google Tag Manager. ????
We're actually scoring an "A" on GTMetrix.
We scored a "C" on Pingdom.
Weight of the homepage was 1.4 MB.
Initial Optimizations
Generated and served .webp image files (via SG Optimizer plugin).
Deferred render-blocking javascript (via SG Optimizer plugin).
Turned off Jetpack's cdn.
Cropped and exported the hero image at 80% quality, which reduced its size from 389k to 79k.
Removed an unnecessary logo image, which was 60k.
Exported a testimonial image image at 80% quality, which reduced its size from 162k to 92k.
Removed an unnecessary background image, which was 273k and replaced it with some glitzy colors.
Deactivated unneeded plugins.
Removed the background hero image from mobile views.
Results
After 1 hour of work (including writing this post!), I'm happy to say that I increased my Google Pagespeed Insights score from a "44" to a "77". Not bad for an hour on a Friday!
Reduced the total homepage load from 1.4mb to 690k.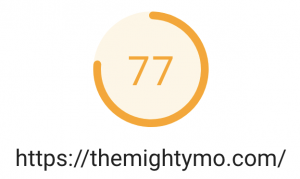 More posts from themightymo.com
Go to phpMyAdmin. Go to the "wp_options" table. Search for the field named, "active_plugins". Edit the "active_plugins" field. Delete the value/contents of the "active_plugins" row. Save. That's it! All your plugins are now deactivated!
Websites have multiple layers: Domain Registration When you register a domain, you pay someone ~$20/year for a .com domain. Registration means you are leasing the domain for a year or more. A domain is the "yoursite.com" or "yoururl.net" or "yourorganization.org" that people type into their browser. We use services like Namecheap, Dreamhost, and GoDaddy for…
I inherited a WordPress site using Avada ThemeFusion, and it is experiencing really bad performance issues. After doing lots of my standard bag-of-tricks optimizations to little effect, I decided to simply count the javascript files. To my surprise horror, I found it was loading over 80 javascript files on every single page! (For comparison: themightymo.com…