There's a new feature that slipped into the admin side of WordPress with the recently-released 3.8 – Dashicons!  Very similar to Font Awesome, Dashicons give plugin developers a nice set of pre-made icons to use.  The cool thing is that Dashicons come pre-loaded, and using them in your WordPress custom post types is as simple as adding a parameter to your register_post_type() function, like so:
// Register a new custom post type named "Portfolio"
register_post_type('portfolio', array(
 'public' => true,
 'menu_icon'=> 'dashicons-portfolio',
 'label' => __( 'Portfolio', 'local' ),
);

[source]
Here's a screengrab from our Lowrize plugin using Dashicons: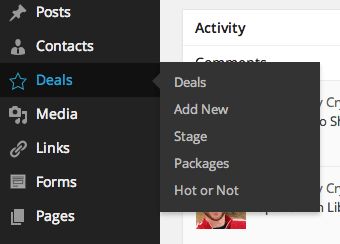 Pretty nifty, eh?!
More posts from themightymo.com
Go to phpMyAdmin. Go to the "wp_options" table. Search for the field named, "active_plugins". Edit the "active_plugins" field. Delete the value/contents of the "active_plugins" row. Save. That's it! All your plugins are now deactivated!
Websites have multiple layers: Domain Registration When you register a domain, you pay someone ~$20/year for a .com domain. Registration means you are leasing the domain for a year or more. A domain is the "yoursite.com" or "yoururl.net" or "yourorganization.org" that people type into their browser. We use services like Namecheap, Dreamhost, and GoDaddy for…
I inherited a WordPress site using Avada ThemeFusion, and it is experiencing really bad performance issues. After doing lots of my standard bag-of-tricks optimizations to little effect, I decided to simply count the javascript files. To my surprise horror, I found it was loading over 80 javascript files on every single page! (For comparison: themightymo.com…