Based in Minneapolis, our team of WordPress developers have been securing, speeding up, and improving WordPress websites since 2006.  We keep things simple and offer the following services:
WordPress security
WordPress website enhancements
WordPress speed improvements
WordPress training (1-on-1 and small group)
We reply to all emails and return all phone calls.  Contact us if you'd like to schedule a conversation.  Read our Verified Google Reviews to learn more.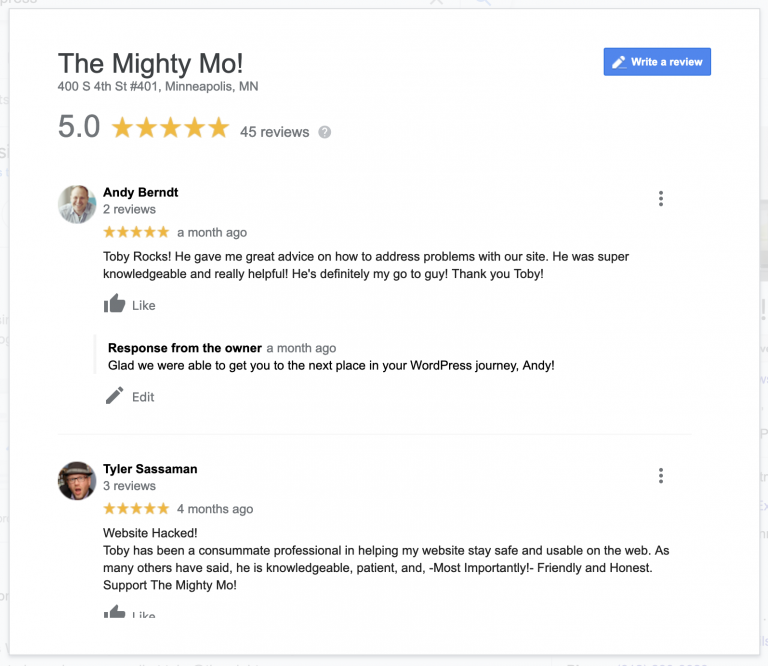 Note from the Founder of The Mighty Mo!
Hi, I'm Toby Cryns, and, as I write this in August 2021 I'm realizing how much The Mighty Mo! has changed me in our 15 years in business.  The fact is that I am the lone constant in this business over those years.  Employees have come and gone, as have mission statements, business plans, dreams of becoming a millionaire, and website trends. Over those years, I've realized I like to go deep rather than shallow - that's why we not only focus on WordPress, but we focus on a few specific WordPress things: speed, security, and training.  As I've come to the realization that I like to go deep, my interest in playing games, whether they are good for business or good for my ego, has waned.  You'll no longer see me doing much on Twitter, I've cancelled my Facebook, I rarely network for customer-grabbing sake.  However I do maintain special relationships with some of my customers, who have become friends, and with whom I share mutual laughs and sorrows.  I'm no longer in this to get rich - I'm not even sure what getting rich means, anymore.  I'm no longer interested in pretending I'm something I'm not, and, by extension, this business is not interested in that, either.  I now seek to largely remove the daylight between the Toby you see at The Mighty Mo! and the Toby my wife sees at the dinner table.  The Mighty Mo! is still a business, and it provides for my family, but I'm no longer in it to make a million bucks. I have skin in the game and care what happens to my customers.  That's why oftentimes you'll hear me recommend against paying us to do that fancy redesign and instead recommend you pay someone else to improve your organic SEO.  Advice I give needs to be win-win or lose-lose, if it comes to it.  I don't feel good making a sale - I feel good when I see you winning, because that's my job.
-Toby Cryns, Aug. 30, 2021