This is my meeting agenda for my weekly check-in with my Google Ads agency:
What's our total spend (including agency billings) vs. the customer-lifetime-value of the customers the campaign brought in to date, over the last 3 months, & last week?
What did you do the last 7 days to increase the value of my ad spend?
What will you do in the next 7 days to increase the value of my ad spend?
Any blockers to getting your stuff done?
If you don't ask, you won't get these answers.
1. Measuring Value
Customer Lifetime Value vs. Ad Spend will get you a number that is pretty close to what you need to make a business decision.
Let's say we spend $10k in January on an ad campaign that brings in 10 customers that each spend $100, for a total of $1k in ROI to date. That sounds sucky on its face. But let's say each of those customers is paying us $100/month and is expected to stay for 15 months on average.
That $10k Google Ads investment now has an ROI of $15k ($1500 customer lifetime value x 10 customers).
That's a $5k margin before overhead, delivery, etc. And if your product costs less than $5k to deliver for those 10 people, then you might be on to something. Or if it costs more, then you have actionable business data here to decide on next steps, which is exactly what you need!
2. The Solution to a Wasteful Meeting Agenda
Business people have no idea how to run meetings. Coders, on the other hand, have a tradition of running the most-effective meetings: short, to the point, and valuable.
The 3 Most Important Questions to Ask at EVERY Check-in Meeting:
What did you do?
What will you do?
What will stop you from getting your stuff done?
If you only did the above, your business would save hundreds of hours (or more) per year. Hours which you could invest working on important things.
More posts from themightymo.com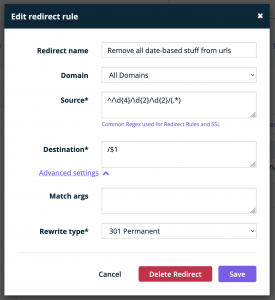 Today I needed to update the permalink structure to remove the dates from blog posts on an old website. It's easy enough to remove the dates – just go to "Settings"->"Permalinks", and select the "/%postname%/" option – done! Buuuut there's still the problem of 301 redirecting old urls so as to not lose SEO value.…
Go to phpMyAdmin. Go to the "wp_options" table. Search for the field named, "active_plugins". Edit the "active_plugins" field. Delete the value/contents of the "active_plugins" row. Save. That's it! All your plugins are now deactivated!
Websites have multiple layers: Domain Registration When you register a domain, you pay someone ~$20/year for a .com domain. Registration means you are leasing the domain for a year or more. A domain is the "yoursite.com" or "yoururl.net" or "yourorganization.org" that people type into their browser. We use services like Namecheap, Dreamhost, and GoDaddy for…